San Gabriel High School

In Memory
Anne Kemp (Hummel)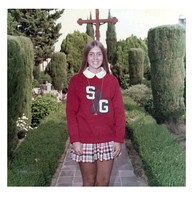 February 10, 2015
Dear Friends:
We have some sad news to share with you all about Anne. This past Friday, my dear wife Anne asked to be taken to a care facility to help her until she was feeling better. It is with heavy hearts that we let you all know that on Saturday morning, February 7th, she passed away.
Anne is our wife, Mom, confidant, counselor, spiritual compass, family archivist, leader of adventurous vacations, and truly an inspiration. Her sense of humor and selfless love for others knows few bounds; it's impossible not to still hear her infectious laugh and sweet voice (at least when she isn't playing the ukulele).
Anne is always in our thoughts and such an integral part of our consciousness, so we can't help but think this is some mistake and that she's just in the next room. Even if she isn't physically with us, there is no doubt that the strength of Anne's dear love for all of us - for everyone she knew - means that our relationship with her will continue to blossom and flourish.
Emily, Claire , and I are targeting to have a get-together to celebrate Anne in about a month or so. Anne was remarkable in her ability to think of others before herself, so it will be an opportunity for us to share with you all what an amazing person she is, and how thoroughly we have been blessed by the overwhelming love and good she brought into our lives. We have already heard so many wonderful stories from all of you, and this will be an opportunity to hear and share even more (even the silly ones!). We'll make sure to share details for this as they come together, as we would love for you all to be able to join us.
With much love,
Rob, Emily, and Claire Hummel